Air purification by materials PANION®
Why PANION®?
Many dangerous air pollutants – volatile acids and alkalis – are absorbed with traditional adsorbing materials such as activated carbon and silica gel badly. Among these are:
Substances of acid nature:
inorganic acids: HCl (hydrochloric), HF (hydrofluoric), H2SO4 (sulfuric), HNO3 (nitric), H3PO4 (phosphoric) and others;
oxides of acid nature: SO2 (sulfur dioxide), NO2 (nitrogen dioxide), SO3, CrO3 and others;
organic acids: HCOOH (formic), CH3COOH (acetic) and others;
hydrogen cyanide HCN;
Cl2 (chlorine), Br2 (bromine);
Substances of basic nature
alkalis: NaOH (sodium hydroxide), KOH (potassium hydroxide) etc.;
NH3 (ammonia);
amines: (tri-) (di-) (mono-) methylamines, (tri-) (di-) (mono-) ethyla-mines etc.;
Other substances
H2S (hydrogen sulfide), CH2O (formaldehyde);
and many other substances.
Materials PANION® are intended for air purification from such pollutants by its concentrations until 500 mg/m3.They are also very effectively used in air cleaning systems from different smells, bad-smelling substances, tobacco smoke.
Chemical nature
The materials PANION® have the same chemical nature as granular ion exchangers. They are acids and alkalis and are produced in different textile forms: staple, fabrics and non-woven fibers, which are ideally suited for air filtration combined with chemical purification.
How does air purification occur?
Air purification process occurs due to neutralization reaction of acid and basic groups in material with toxic components of air or due to its catalytical destruction.
Using ion exchange materials
The materials PANION® are the basis for industrial filters for air purification working in automatic regeneration mode – ion exchange filters FIF, CF, FIF-CF (at high air pollutants concentration).
In addition at lower concentration of pollutants ion-exchangers fibrous are widely used in disposal filters of different construction – pocket, panel, compact filters etc.
Thanks to its textile form ion exchangers fibrous can be used by producers of dust filters in their standard items without changing manufacturing process, that extends the range and application fields of their products by far.
The filters on base of materials Panion are used in industry, agriculture, as well as for deep air purification in «clean rooms» of microelectronic, optical, instrumentation manufacturing industries and also analytical laboratories.
Selective air purification
«IMT-Filter» company has developed a range of materials for selective air purification of difficult-to-detect substances:
Panion 110 — Substances of basic nature: ammonia, amines, alkalis
Panion 220 и Panion 310 — Substances of acid nature: SO2, SO3, HF, HCl, H2SO4, NxOy, CrO3 and other
Panion 410 — Substances of basic nature: ammonia, amines, alkalis
Panion 420 — Hydrogen sulfide
Panion 430 — Formaldehyde
Panion 440 — Carbon monoxide CO
Panion 510 — Simultaneous content of substances of acid, basic and organic nature: SO2, SO3, HF, HCl, HCOOH, CrO3, organic acids, NH3, amines, mercaptans, benzene, acetone, formaldehyde, bad-smelling substances, odors, tobacco smoke, smog, high-toxic substances, chemical agents etc.
Panion 530 — Bacteria, viruses, pathogens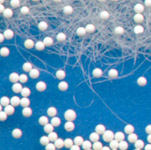 Ion exchangers fibrous are unique high-tech product developed on base of funfdamental researches of National Academy of Sciences of Belarus