Gas-cleaning equipment
IMT-Filter Ltd. Company is developer and producer of high-efficiency gas-cleaning equipment intended for technological and sanitary air purification in industry and agriculture from broad list of toxic impurities, present as gases, vapors and aerosols.
We develop and produce
Ion exchange filters FIF, CF. FIF-CF – volatile substances of acid and basic nature: sulfur dioxide, hydrogen chloride, hydrogen fluoride, nitrogen acid, ammonia, chromic anhydride, hydrogen sulfide, formaldehyde and others.
Absorption filters CF(S) – difficult-to-absorb substances of organic nature: phenol, aldehydes, mercaptans, alcohols, ethers; inorganic substances: acids, alkalis, salts; bad-smelling substances, odors and others.
Adsorption filters AF – substances of organic nature: acetone, toluene, benzene, styrene, phenol, acrylaldehyde; bad-smelling substances, odors and others.
Signature features of our filters
high efficiency (until 99%);
operational reliability even under hard production conditions;
a broad capacity range from 100 to 100 000 m3/h;
possibility to produce equipment according to individual customer's request.
Why should you prefer us
Our company has a complete production cycle of filters from producing of filtering materials PANION®, to developing and manufacturing of automatic control systems, that makes possible to control quality of our products at each stage of production.
We provide support to our customers at all stages of solution of air purification task:
Consulting in selection, installation and operation of equipment;
Mounting, commissioning and start-up of the filter;
Guarantee services.
We have a lot of reasons to be proud of
Hundreds of gas-cleaning equipment units produced by IMT-Filter Ltd. are installed in tens of countries and they have been proved as reliable and effective equipment.


Air purification technology of many our filters is based on the use of unique ion exchange filtering materials PANION® and is the result of years of research of the Belarusian Academy of Sciences.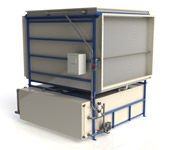 Air purification with Ion exchange filters FIF, CF, FIF-CF is carried out until sanitary standards of breathing air are achieved, filtering units turn on regenera-tion in automatic mode and can work without personal operation for a long time.