Purification of emissions from industrial enterprises
Almost any industry production is followed by emissions of pollutants into the atmosphere, which are destructive for human's health and/or are bad-smelling.
Materials PANION® and gas-cleaning equipment on its base (Ion exchange filters FIF, CF, FIF-CF) are made specially for purification of wastes in different industry branches:
MACHINE BUILDING AND METAL WORKING
- Electrochemical and galvanic manufactures, shops, bays, manufacture of hardware and others
CHEMICAL INDUSTRY
The chemical and chemico-metallurgical enterprises. Manufacture of rare and noble metals from concen-trates. Manufacture of inorganic compounds (acids, alkalis, ammonia, soda, salts, chemical reactants for la-boratories).
Manufacture of mineral fertilizers.
Manufacture of steel-doped, titanic alloys, stainless steel manufacture. Processes of steel polishing in HCl so-lutions. The enterprises of organic synthesis.
Warehouses of chemical reagents. Ammonia storehouses.
FOOD-PROCESSING INDUSTRY
Meat-processing and packing industry. Vent emission of the prelethal keeping of cattle shops, cutting shops etc.
Storehouses with the freezing installations using as coolant ammonia.
Fish-processing industry. Pollutants: amines, organic substances of the basic nature, odors.
AGRICULTURE
- Pig-breeding complexes and farms. Poultry farms.
WOOD INDUSTRY
- Air purification of phenol, formaldehyde.
STORAGE BATTERY SHOPS
of the enterprises of any profile using electrotransport (additional charge, repair, dismantling of accumulators).
GLASS INDUSTRY
- Glass factories. Process of glass polishing.
FOUNDRY INDUSTRIES
WELDING SHOPS AND BAYS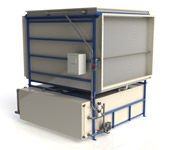 Air purification with Ion exchange filters FIF, CF, FIF-CF is carried out until sanitary standards of breathing air are achieved, filtering units turn on regenera-tion in automatic mode and can work without personal operation for a long time.
At comparatively small concentrations of pollutants (excess of maximum permissible concentration in 5-10 times) it makes sense to use non-regenerable (replaceable) filters on base of ion exchange materials PANION® – pocket, panel, compact filters as well as adsorption filters AF.