Absorption filters CF(S)
Absorption filters CF(S) are general effective gas-cleaning equipment of chemoabsorption operat-ing principle.
Air purification occurs due to passing of polluted air through continuously irrigated by active solution mass-exchange filling. Pollutants are absorbed and chemically bonded with active solution.
The filters are used for removal of broad list of substances of organic and inorganic nature:
soluble salts: BaCl2 (barium chloride), NaCl (sodium salt), NaNO2 (sodium nitrite), KaNO3 (potassium nitrate) and other water-soluble salts (see table of solubility);
alcohols: methyl, ethyl, isopropyl and others;
ethers (ethyl acetate, methyl acetate, dimethyl, diethyl and others);
phenols;
inorganic acids: HCl (hydrochloric), HF (hydrofluoric), H2SO4 (sulfuric), HNO3 (nitric), H3PO4 (phosphoric) and others;
oxides of acid nature: SO2 (sulfur dioxide), NO2 (nitrogen dioxide), SO3, CrO3 and others;
organic acids: HCOOH (formic), CH3COOH (acetic) and others;
hydrogen cyanide HCN;
Cl2 (chlorine), Br2 (bromine);
alkalis: NaOH (sodium hydroxide), KOH (potassium hydroxide) etc.;
NH3 (ammonia),
amines: (tri-) (di-) (mono-) methylamines, (tri-) (di-) (mono-) ethylamines etc.;
other substances of organic and inorganic nature:
H2S (hydrogen sulfide), CH2O (formaldehyde), aldehydes, mercaptans, ozone, odors, bad-smelling substances.
Basic technical specifications
| | |
| --- | --- |
| Capacity | 500 – 100 000 m3/h |
| Total content of pollutants | until 10 g/m3 |
| Temperature | +1 - +80 °С |
| Humidity of air flow | 30-100 % |
Advantages
Applications fields of absorption filter CF(S) and list of removable pollutants are bigger than by ion-exchange filters FIF, CF, FIF-CF, but purification rate is just lower. However filters CF(S) have a range of competitive advantages:
Possibility to remove almost all chemical pollutants;
Possibility to purify complex wastes containing substances of different nature;
A wide range of concentrations until until 10 g/m3;
High rate of purification (80-95%);
Full automation of purification process;
Low air resistance;
High dust resistance;
Minimum consumption of electricity;
Small dimensions and the weight of the filter;
Minimum noise pollution;
Easy mounting works.
Composition and concentration of solution are calculated on base of technical requirements for air purification.
Filter can be equipped with automatic control system according to individual customer's request. Automatic control system is easy to use and doesn't require special training of operating personnel.
Applications fields of filters CF(S)
Filters are used in exhaust, input and recycling ventilating systems in various branches of industry and agriculture.
AGRICULTURE
Extremely promising direction. Pig-breeding farms, poultry farms, cattle breeding farms.
MACHINE BUILDING AND METAL WORKING
Electrochemical and galvanic manufactures, shops, bays.
CHEMICAL INDUSTRY
Chemical and chemico-metallurgical enterprises;
Manufacture of rare and noble metals and concentrates;
Manufacture of inorganic compounds (acids, alkalis, ammonia, soda, salts, chemical reactants for laboratories).
FOOD-PROCESSING INDUSTRY
Meat-processing industry. Meet packing houses.
Storehouses with the freezing installations using as a coolant ammonia.
Fish-processing industry.
STORAGE BATTERY SHOPS
Of the enterprises of any profile using electrotransport.
GLASS INDUSTRY
Glass factories. Process of glass polishing.
Arrangement and operating principle of filters CF(S)
The filter set consists of the filter body and the tank for preparation of solution. The filtering element is within the body. The filter body is equipped with flanges for input and output of air flow. The filter body and tank are produced of corrosion-resistant polypropylene armed with steel construction.
Air purification occurs due to absorption of air flow on surface of filtering filling, which is continuously irrigated by regeneration solution (Figure 1).
The regeneration solution circulates until saturation of the removing component. After that it as a neutral salt can be returned into production or be reclaimed (Figure 2).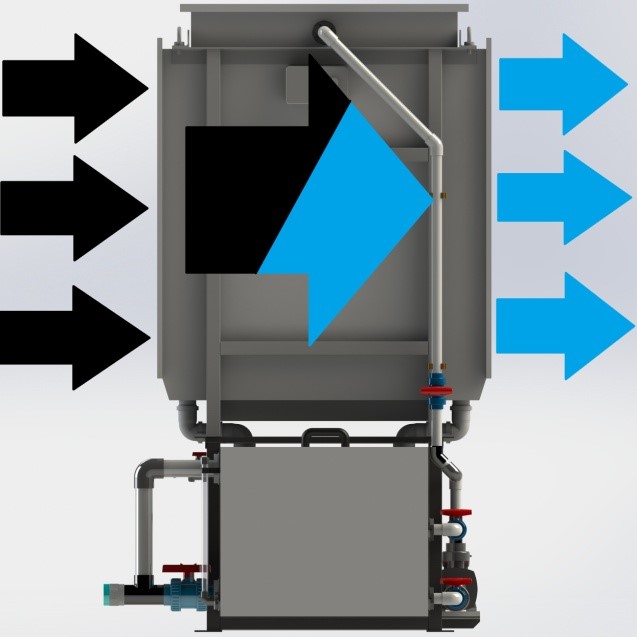 Figure 1 Air purification (front view)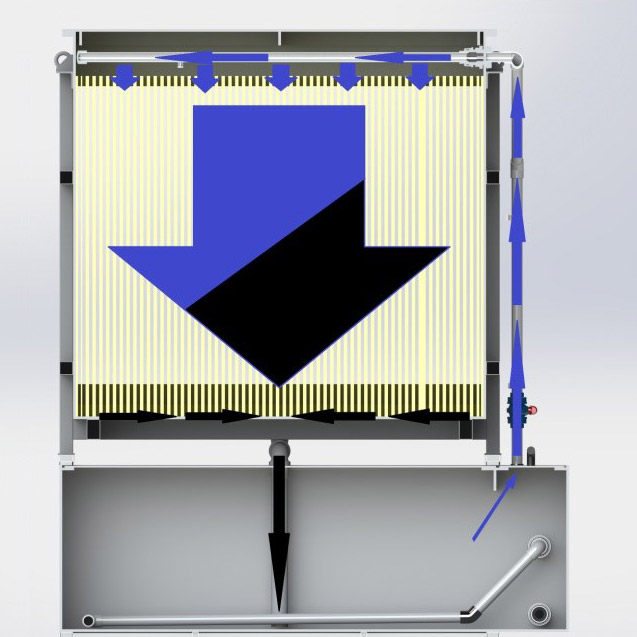 Figure 2 Regeneration of filtering element (side view)
At high concentrations of pollutants it is recommended to install absorption filter CF(S) together with ion-exchange filter FIF or CF.
Due to low air resistance the filters can be installed not only in designed projects, but also in already existing ventilation systems.
Control mode of filters CF(S)
The line of filters CF (S) is manufactured unlike ion exchange filters only with automatic control mode. This fact is caused by working conditions of the filter. Due to automatic mode of the filter maximum purification efficiency values and minimal resource usage values are achieved.
Operating conditions
REQUIREMENTS FOR MOUNTING AREA
The installation requires space defined by dimensions of the filter. The service of the filter requires not less than 1 m distance from each side. The filter should be placed in a room where the temperature is not below 0 °С.
The potential room for the filter must be equipped with the following utilities:
main water;
electricity: 220 V for connection of the filter, 380 V for the ventilator;
sewerage for the drain of the spent regenerating solution.
INSTALLATION METHODS OF CLEANING SYSTEM
The "IMT-Filter" Company develops, manufactures and supplies both integrated air purification systems and ion exchange filters CF(S) separately. Due to low aerodynamic resistance the filters CF(S) are installed not only in designed building projects, but also in the ventilation systems, that are already in operation. The filter CF(S) is installed both as an individual recirculation element and a component of the air purification system or the environmental control system.
The air cleaning system can be integrated into the following types of ventilation systems: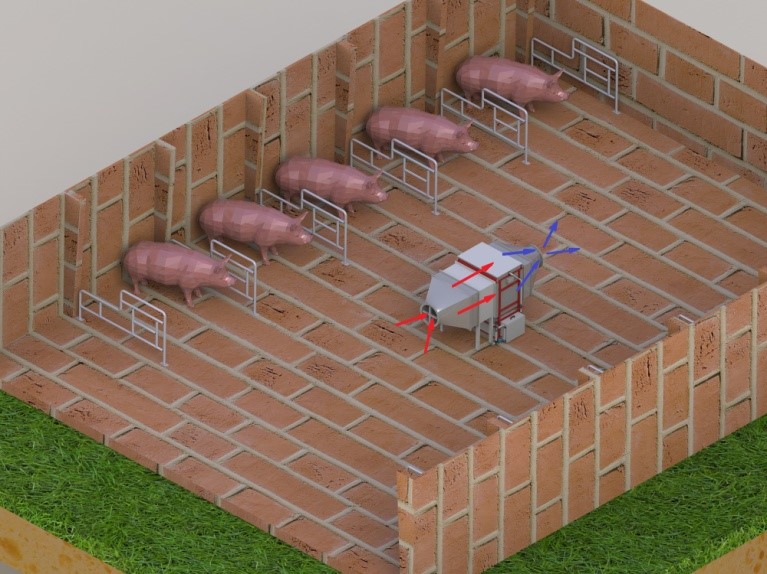 Recirculating system without ducts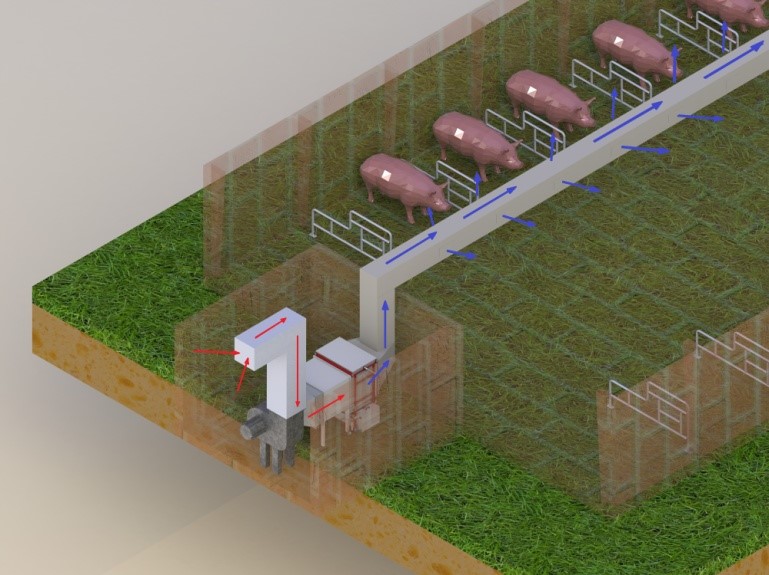 Supply ventilation system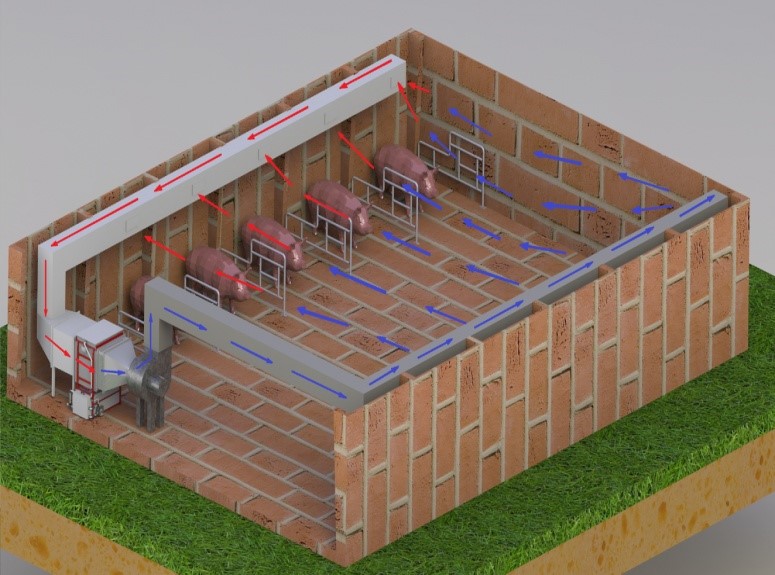 Recirculating system with ducts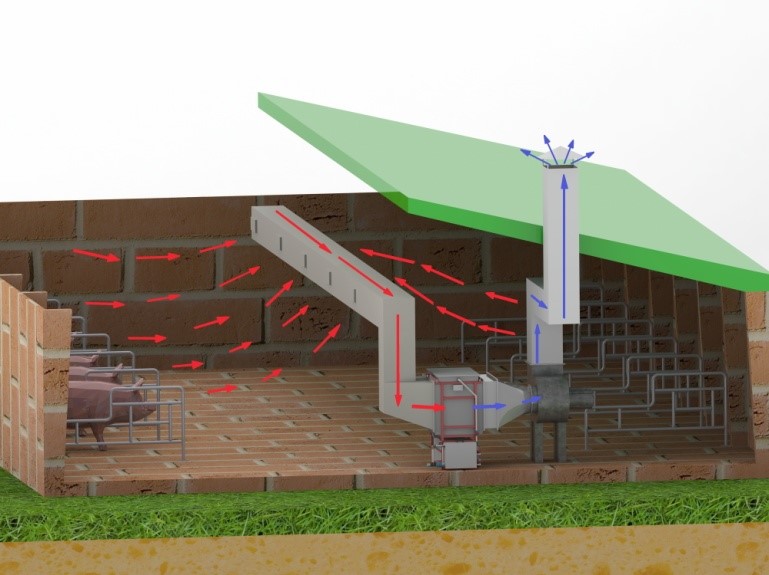 Exhaust ventilation system
OVERALL DIMENSIONS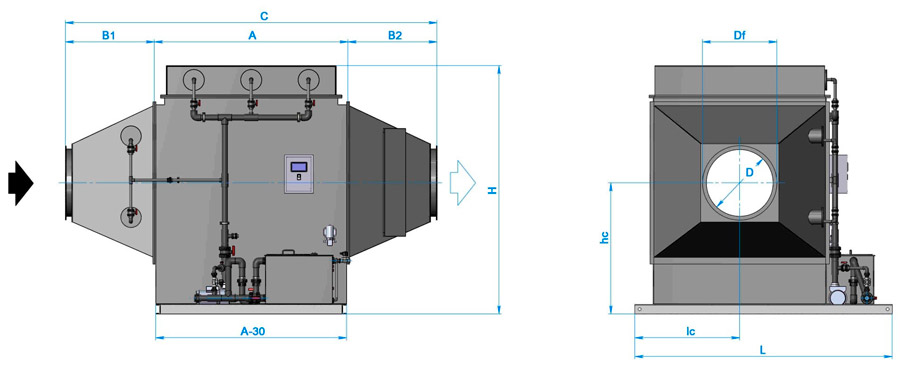 | МFilter model | A | B1/B2 | C | D | Df | H | hc | L | lc | Volume of tank, m3 | Filter weight, kg |
| --- | --- | --- | --- | --- | --- | --- | --- | --- | --- | --- | --- |
| ФК(С)-3 | 1580 | 560/839 | 2979 | 270 | 350 | 2000 | 1073 | 1800 | 650 | 0,41 | 320 |
| ФК(С)-5 | 1580 | 517/770 | 2867 | 345 | 425 | 2000 | 1073 | 1800 | 650 | 0,41 | 350 |
| ФК(С)-10 | 1580 | 684/684 | 2948 | 480 | 570 | 2000 | 1073 | 2700 | 1100 | 0,83 | 500 |
| ФК(С)-15 | 1580 | 1010/1010 | 3600 | 620 | 700 | 2600 | 1373 | 2700 | 1100 | 0,83 | 610 |
| ФК(С)-20 | 2030 | 932,5/932,5 | 3895 | 700 | 780 | 2600 | 1373 | 2700 | 1100 | 1,1 | 730 |
| ФК(С)-25 | 2030 | 1244/1244 | 4518 | 790 | 870 | 2600 | 1373 | 3150 | 1325 | 1,38 | 870 |
| ФК(С)-30 | 2030 | 934/934 | 3898 | 890 | 970 | 2600 | 1373 | 3600 | 1550 | 1,65 | 985 |
| ФК(С)-40 | 2030 | 1334/1334 | 4698 | 990 | 1070 | 2600 | 1373 | 4500 | 2000 | 2,2 | 1215 |
| ФК(С)-50 | 2030 | 1724/1724 | 5478 | 1110 | 1190 | 2600 | 1373 | 5400 | 2450 | 2,75 | 1500 |