Ion exchange filters FIF, CF, FIF-CF
Ion exchange filters FIF, CF, FIF-CF is modern, high-efficiency gas-cleaning equipment for many purposes.
Air purification technology is based on the use in filters unique ion exchange fibers PANION®.
Air purification occurs due to chemical interaction between toxic pollutants and active groups of ion exchange material.
Our filters efficiently purify the air from pollutants of acid and basic nature:
Substances of acid nature:
inorganic acids: HCl (hydrochloric), HF (fluoric), H2SO4 (sulphuric), HNO3 (nitrogen), H3PO4 (phosphoric) and others;
oxides of acid nature: SO2 (sulfur dioxide), NO2 (nitrogen dioxide), SO3, CrO3 and others;
organic acids: HCOOH (formic), CH3COOH (vinegar) and others;
hydrogen cyanide HCN;
Cl2 (chlorine), Br2 (bromine);
Substances of basic nature:
alkalis: NaOH (sodium hydroxide), KOH (potassium hydroxide) etc.;
NH3 (ammonia);
amines: (tri-) (di-) (mono-) methylamines, (tri-) (di-) (mono-) ethylamines etc.;
Other chemical substances:
H2S (hydrogen sulphide), CH2O (formaldehyde);
Pathogens, bacteria and viruses.
Construction of filters makes it possible to use them in exhaust, supply and recirculating ventilation systems in different branches of industry and agriculture.
Due to low air resistance the filters can be installed not only in designed projects, but also in al-ready existing ventilation systems.
Basic technical specifications
| | |
| --- | --- |
| Capacity | 500 – 100 000 m3/h |
| Total content of pollutants | 1- 500 mg/m3 |
| Temperature | +1 - +70 °С |
| Humidity of air flow | 30-100 % |
| Content of water-insoluble dust not more, than | 5 mg/m3 |
Advantages
The main competing technologies are biofilters and scrubbers. In comparison with them ion exchange filters have a range of undeniable advantages:
High rate of purification (90-99%) due to chemical sorption of pollutants with fibrous ion exchanger PANION® by concentration of pollutants until 500 mg/m3;
Low operating costs due to:

low aerodynamic resistance;
low consumption of water and chemicals;
minimum electric energy consumption.

Automation of filter work;
Small dimensions and the weight of the filter;
Minimum noise pollution;
Easy mounting works.
Application fields
Filters are used in exhaust, input and recycling ventilating systems in various branches of industry and agriculture.
AGRICULTURE
Extremely promising direction. Pig-breeding farms, poultry farms, cattle breeding farms.
MACHINE BUILDING AND METAL WORKING
Electrochemical and galvanic manufactures, shops, bays.
CHEMICAL INDUSTRY
Chemical and chemico-metallurgical enterprises;
Manufacture of rare and noble metals and concentrates;
Manufacture of inorganic compounds (acids, alkalis, ammonia, soda, salts, chemical reactants for laboratories).
FOOD-PROCESSING INDUSTRY
Meat-processing industry. Meet packing houses.
Storehouses with the freezing installations using as a coolant ammonia.
Fish-processing industry.
STORAGE BATTERY SHOPS
Of the enterprises of any profile using electrotransport.
GLASS INDUSTRY
Glass factories. Process of glass polishing.
Arrangement and operating principle
The filter set consists of the filter body and the tank for preparation of solution. The filtering element with fibrous ion exchanger PANION®, is within the body. The filter body is equipped with flanges for input and output of air flow.
The filter body and tank are produced of corrosion-resistant polypropylene armed with steel construction.
Air purification occurs due to sorption of air flow with surface of ion-exchange fiber PANION®. The sorption rate on the fiber PANION® exceeds the sorption rate on ion exchange resins by two orders, which allows increasing sorption surface per unit volume of the filter manyfold, the aerodynamic drag is thereby reduced (Figure 1).
The regeneration of filtering elements is realized with solutions of generally available and cheap reagents, which are prepared and kept in tank. The regeneration solution circulates until saturation of the removing component. After that it as a neutral salt can be returned into production or be reclaimed (Figure 2).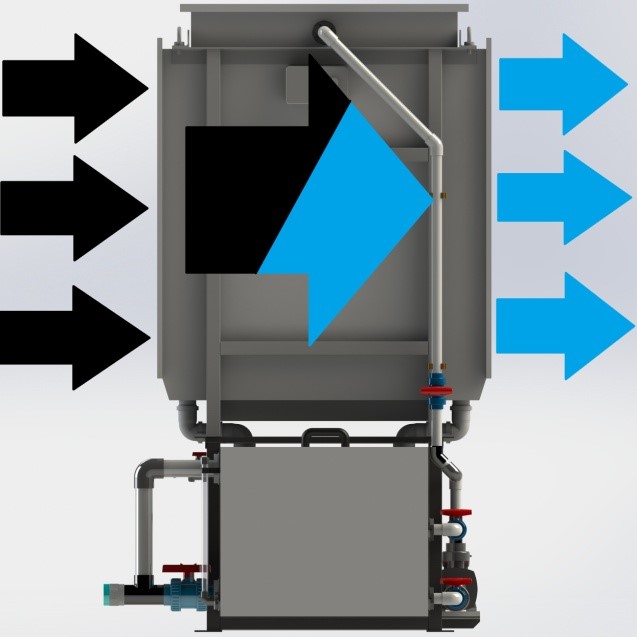 Figure 1. Air purification (front view)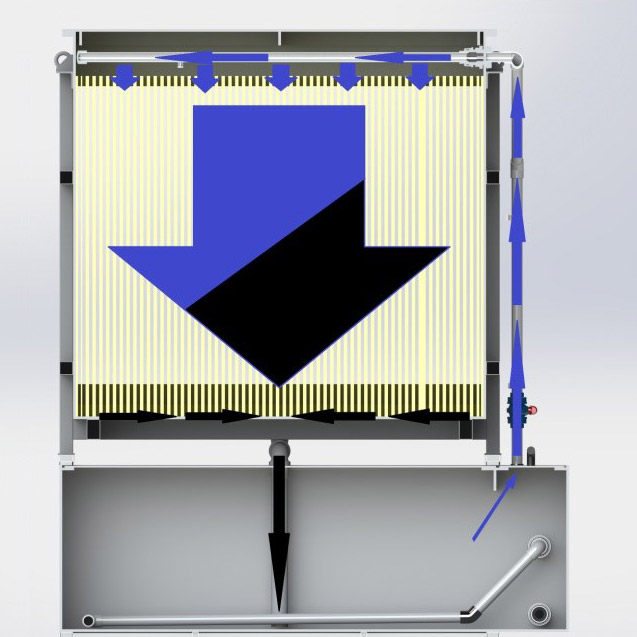 Figure 2. Regeneration of filtering element (side view)
In dependence of purpose of air purification ion exchange filters are divided by means of arrangement and operating principle:
FIF – frame ion exchange filter;
CF – contact filter;
FIF-CF – combined filter.
The filtering element of FIF is a set of frames with fixed ion exchange fabric. Air flow is filtered through the material, the pollutants are chemically bonded with active centers of ion exchanger.
The difference between the frame (FIF) and contact (CF) filters is that in the latter case the absorption of toxic components occurs due to moving of air in plane-parallel channels, created with separating elements, and diffusing of absorbing components to active surface of element.
For purification of complex gas-air mixtures the filter FIF-CF is produced, that is combination of filters FIF and CF in one unit. The gas flow goes at first through the filter CF and then through FIF.
The irrigation time of filtering element by regeneration solution is corrected for each technological process during operation.
Control modes of filters
МThe most effective using of gas-cleaning equipment is achieved by means of timely turning on of necessary working regime (irrigation, washing, dosing etc.). So in dependence of the fact, by whom? where? and how? the filter will be operated, there are 3 types of control mode:
manual – operating personnel manually controls filter regimes, prepares the regeneration solution.
half-automatic – filter performs a part of operations, however the activity of operating personnel is required.
full-automatic – filter controls all regimes.
Each of 3 types of control modes has its advantages and disadvantages. All control modes have a certain basic configuration, which on customer's request can be added or changed. Details can be read below.
Type of control system
Advantages
Disadvantages
1. manual
1. low price

the filter requires many service people
permanent presence of personnel
due to lack of manual and automatic control of pH of solution:

overconsumption of recourses (reagents, water electricity)
the efficiency of air purification can decrease drastically during the work

lack of possibility to control the filter remotely

2. half-automatic

reduction of amount of service personnel due to automatic irrigation
manual control рН:

reduction of resources consumption (reagents, water, electricity)
if the efficiency of air purification decreases drastically, service personnel will be informed, level of purification efficiency is corrected manually.

there is a possibility for minimal control of the filter remotely using industrial networks RS232, RS485 or electrical networks
there is a possibility to combine work of the filter with other equipment or devices or devices

the filter requires a sufficient amount of service people
manual control рН:

periodical presence of personnel for preparation of solution
manual correcting of efficiency level

remote control of the filter is minimal.

3. fully-automatic

amount of service personnel is minimal due to automatic preparation of solution and irrigation
automatic control рН:

minimal consumption of recourses (reagents, water, electricity)
efficiency of air purification is maximal due to automatic control and correcting

there is a possibility for full remote control of the filter using industrial networks RS232, RS485 or electrical networks
there is a possibility to combine work of the filter with other equipment or devices

1. high price
Operating conditions
The installation requires space defined by dimensions of the filter. The service of the filter requires not less than 1 m distance from each side.
The filter should be placed in a room where the temperature is not below 0 °С.
The potential room for the filter must be equipped with the following utilities:
main water;
electricity: 220 V for connection of the filter, 380 V for the ventilator;
sewerage for the drain of the spent regenerating solution.
The air cleaning system can be integrated into the following types of ventilation systems: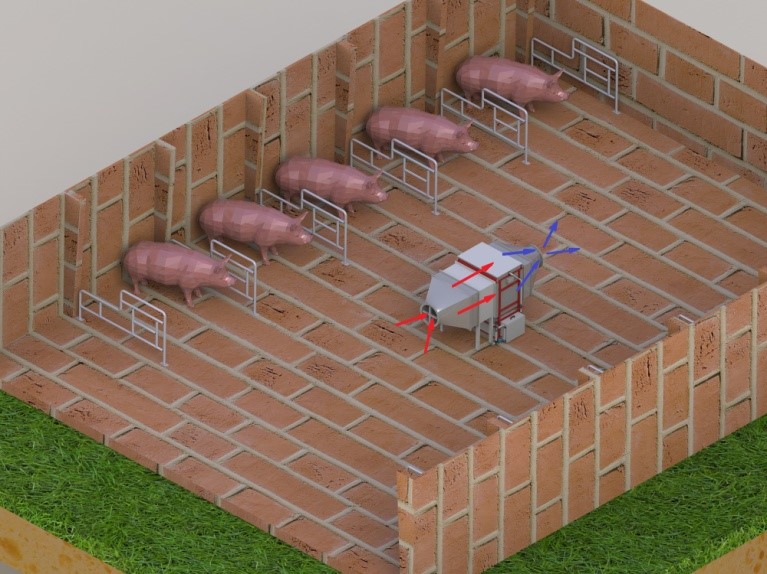 Recirculating system without ducts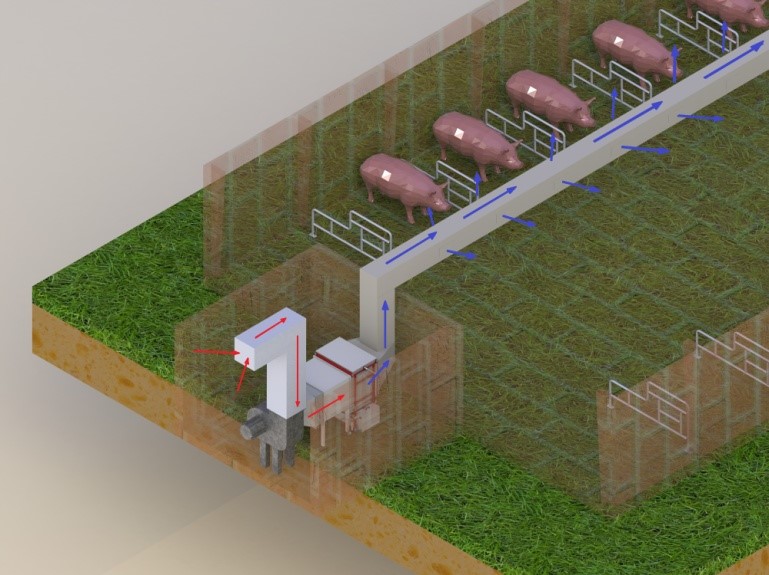 Supply ventilation system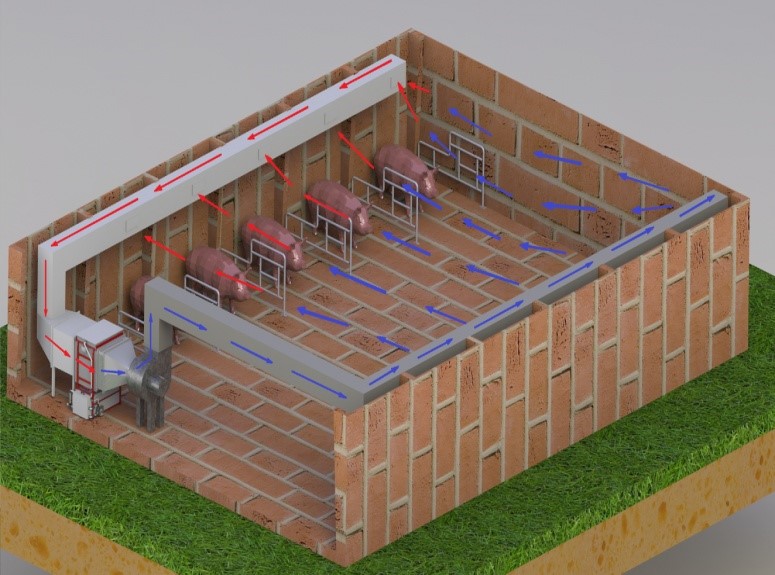 Recirculating system with ducts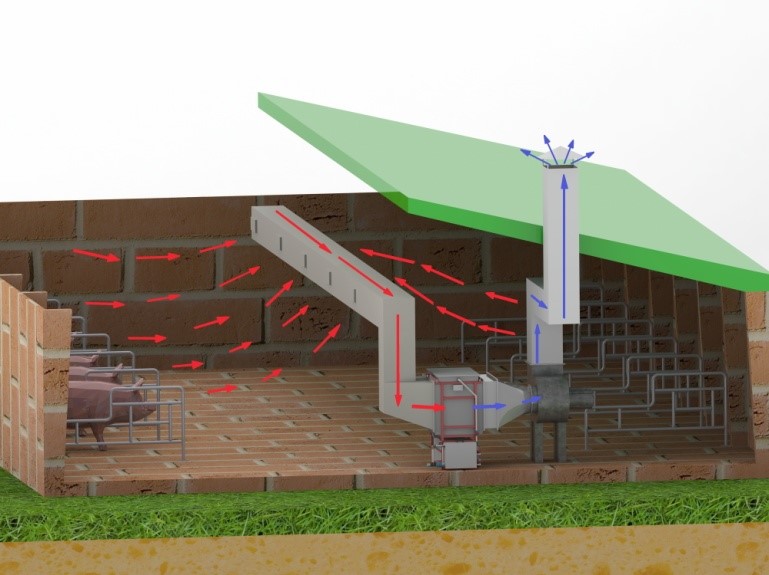 Exhaust ventilation system
Dimensions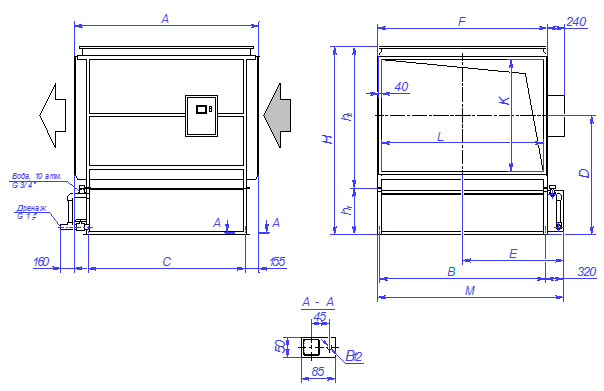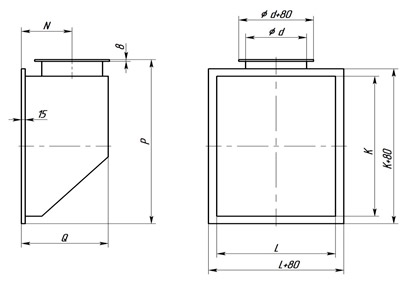 | | A | B | C | D | E | F | M | K x L | H | h1 | h2 | Volume of the tank, m3 | filter weight, kg | d | N | P | Q | Weight confuser, kg |
| --- | --- | --- | --- | --- | --- | --- | --- | --- | --- | --- | --- | --- | --- | --- | --- | --- | --- | --- |
| FIF -3 | 1020 | 780 | 710 | 1453 | 710 | 820 | 1130 | 850 x 720 | 2050 | 775 | 1275 | 0,37 | 220 | 300 | 273 | 998 | 473 | 15 |
| FIF -5 | 1020 | 1260 | 710 | 1453 | 950 | 1300 | 1610 | 850 x 1200 | 2050 | 775 | 1275 | 0,54 | 300 | 400 | 323 | 998 | 573 | 23 |
| FIF -10 | 1020 | 1560 | 710 | 1703 | 1100 | 1600 | 1910 | 1350 x 1500 | 2550 | 775 | 1775 | 0,64 | 440 | 500 | 373 | 1498 | 673 | 40 |
| FIF -15 | 1770 | 1200 | 1460 | 1703 | 920 | 1240 | 1540 | 1350 x 1140 | 2550 | 775 | 1775 | 1,16 | 560 | 600 | 423 | 1498 | 773 | 35 |
| FIF -20 | 1770 | 1560 | 1460 | 1703 | 1100 | 1600 | 1910 | 1350 x 1500 | 2550 | 775 | 1775 | 1,4 | 700 | 700 | 473 | 1498 | 873 | 44 |
| FIF -25 | 1770 | 2060 | 1460 | 1703 | 1350 | 2100 | 2410 | 1350 x 2000 | 2550 | 775 | 1775 | 1,74 | 850 | 800 | 523 | 1498 | 973 | 56 |
| FIF - CF -3 | 1581 | 760 | 1271 | 1453 | 710 | 820 | 1130 | 850 x 720 | 2050 | 775 | 1275 | 0,7 | 330 | 300 | 273 | 998 | 473 | 15 |
| FIF - CF -5 | 1581 | 1260 | 1271 | 1453 | 950 | 1300 | 1610 | 850 x 1200 | 2050 | 775 | 1275 | 1 | 450 | 400 | 323 | 998 | 573 | 23 |
| FIF - CF -10 | 1581 | 1560 | 1271 | 1703 | 1100 | 1600 | 1910 | 1350 x 1500 | 2550 | 775 | 1775 | 1,2 | 700 | 500 | 373 | 1498 | 673 | 40 |
| FIF - CF -15 | 2331 | 1200 | 2021 | 1703 | 920 | 1240 | 1540 | 1350 x 1140 | 2550 | 775 | 1775 | 1,62 | 750 | 600 | 423 | 1498 | 773 | 35 |
| FIF - CF -20 | 2331 | 1560 | 2021 | 1703 | 1100 | 1600 | 1910 | 1350 x 1500 | 2550 | 775 | 1775 | 1,9 | 950 | 700 | 473 | 1498 | 873 | 44 |
| FIF - CF -25 | 2331 | 2060 | 2021 | 1703 | 1350 | 2100 | 2410 | 1350 x 2000 | 2550 | 775 | 1775 | 2,5 | 1200 | 800 | 523 | 1498 | 973 | 56 |
| CF -5 | 1382 | 515 | 1072 | 1453 | 578 | 555 | 865 | 850 x 455 | 2050 | 775 | 1275 | 0,44 | 240 | 400 | 323 | 998 | 573 | 13 |
| CF -10 | 1382 | 1080 | 1072 | 1453 | 860 | 1120 | 1430 | 850 x 1020 | 2050 | 775 | 1275 | 0,74 | 400 | 500 | 373 | 998 | 673 | 22 |
| CF -15 | 1382 | 1080 | 1072 | 1703 | 860 | 1120 | 1430 | 1350 x 1020 | 2550 | 775 | 1775 | 0,8 | 510 | 600 | 423 | 1498 | 773 | 33 |
| CF -20 | 1382 | 1420 | 1072 | 1703 | 1030 | 1460 | 1770 | 1350 x 1360 | 2550 | 775 | 1775 | 0,92 | 620 | 700 | 473 | 1498 | 873 | 41 |
| CF -25 | 1382 | 1760 | 1072 | 1703 | 1200 | 1800 | 2100 | 1350 x 1700 | 2550 | 775 | 1775 | 1,06 | 700 | 800 | 523 | 1498 | 973 | 50 |
| CF -30 | 1382 | 1985 | 1072 | 1703 | 1312 | 2025 | 2335 | 1350 x 1925 | 2550 | 775 | 1775 | 1,2 | 800 | 900 | 573 | 1498 | 1073 | 57 |
Ion exchange filters
FIF, CF, FIF-CF